To Hospital & Clinics
JAPAN RETREAT provides international patient with related information on coming to Japan for healthcare. In order to provide the best recommendation and allow the client to experience Japan's advanced medical technology and high quality of service, we would like to build a stable business relationship with you.

In addition to provide international patient with medical coordination service, we also provide consulting service to medical institutions in Japan who are considering to receive international patient.

For medical institution that are interested in international medical exchange, and expand their international network ; we can arrange visit to overseas medical facility. Also, we can plan for foreign medical institution to visit your medical facility in Japan.

For those who are interested, please feel free to contact JAPAN RETREAT.
Our business
【Treatment coordination】
We provide one-stop medical coordination service to international patient and family during their stay in Japan. If you are considering using us for admitting international patient. Or, if you wish to refer our service to international patient at your hospital. Please feel free to contact us.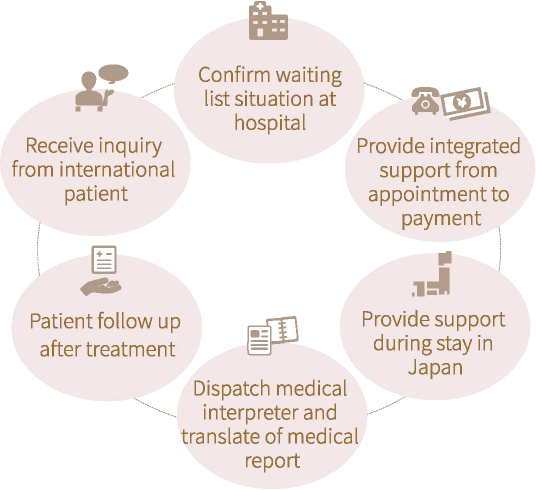 【Business consulting】
JAPAN RETREAT provides business consulting to medical institutions that have different issues or experiences. One client had received international patients by themself in the past, due to multiple problems, they had to stop receiving international patient. Another client is considering to receive international patient for the first time.

We assist our client to identify various issues, and propose solution to resolve these issues. If you need related business consultation, please feel free to contact us.
【Arrange medical facility visit】
If you wish to have international medical exchange with overseas hospitals (visiting overseas medical facility. Receiving visitor from overseas medical institution) Please feel free to contact JAPAN RETREAT.